Main content starts here, tab to start navigating
About Us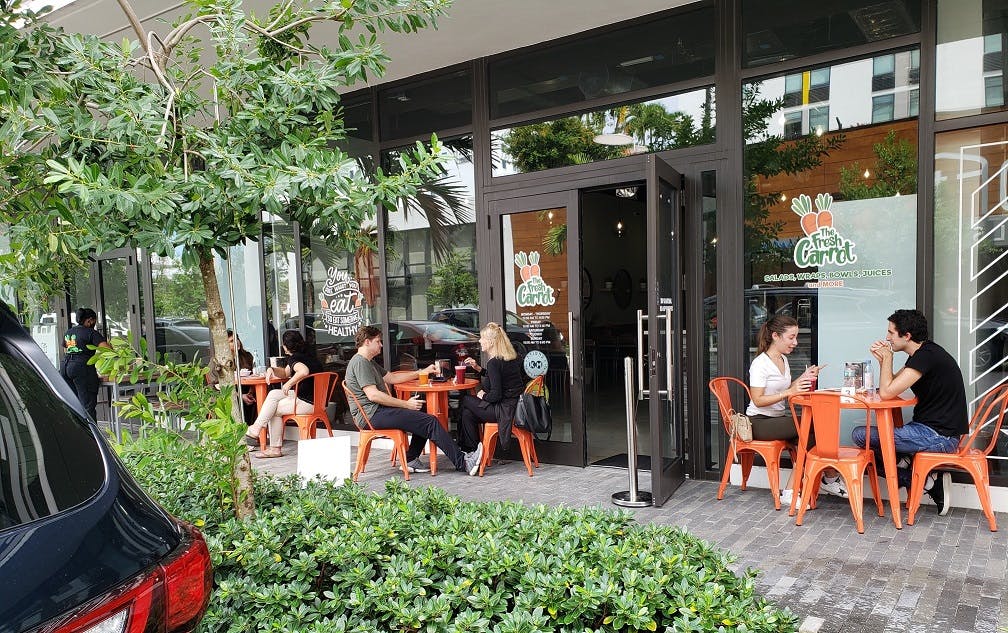 The Fresh Carrot, a fresh & healthy Kosher restaurant located in the new ParkSquare Center in Aventura, FL opened in August 2020 by Maurice and Patricia (Pidy) Lichy who wanted to provide clean, healthy, delicious and fresh kosher meals at cost conscious prices. We want to provide an eatery that transitioned easily from a breakfast smoothie to Lunch and Dinner with friends and Family.
At The Fresh Carrot Aventura we take pride in knowing our valued customers are enjoying food that is good for them, using the best and freshest ingredients to provide flavorful dishes that really excite their customers in an environment that makes them feel like part of the "Fresh Carrot family!" Our motto is "100% Natural, Fresh & Healthy Ingredients".
When visiting The Fresh Carrot be sure to try the ever changing daily "Sara's Soups" named after the family matriarch Sara who was a beloved mother, grandmother and great-grandmother. Sara is why the soup is so delicious at The Fresh Carrot with daily vegan varieties such as Carrot Soup, White Bean soup or Lentil Kale. Sara's recipes like her, live on through The Fresh Carrot.
"To eat is a necessity, but to eat healthy is a lifestyle". Our extensive menu offers a delightful selection of Salads, Wrap & Platters with a choice of Chicken, Fish, Vegetarian, Vegan and Gluten Free. The blend of Signature dishes at The Fresh Carrot Aventura include our "Liv Wrap"; made up of baked chicken breast, avocado, quinoa, kale, pesto and daiya vegan cheese on a whole wheat baked wrap or try the widely popular Poke Bowl; a choice of Ahi Tuna or fresh Scottish Salmon, raw or seared, including brown rice or quinoa, arugula, avocado, carrot, cucumber, edamame, pickled ginger and crispy onions topped with spicy mayo, eel sauce and sesame seeds. Finish off your meal with a homemade "Energy Bunny"; delicious peanut butter energy balls or our home-made Carrot Cake.
Boasting an extensive smoothie and freshly squeezed juice menu boost yourself with a Green Dream; kale, spinach, pineapple, and green apple, or get into vacation mode with a Pina Colada smoothie, fresh pineapple juice, coconut milk, banana, honey and ice. With a wide variety of juices and smoothies to choose from there is definitely something for everyone. Power Shots & Protein Scoops are also an added experience.
At The Fresh Carrot Aventura you will see the love of fruits and veggies not only in the menu but also in the modern decor with clean lines and fresh accents. The Fresh Carrot is of course named after the wholesome carrot, it provides one with many of the essentials and can be found in large variety of dishes as well as blending well with other food, yet its appearance has a real quirk to it that makes it stand out. No matter if you decide on outdoor seating, inside dining, take out or delivery, try out the Fresh Carrot Experience, you will not regret it.